Tbilisi Tower

Tbilisi, Georgia (2013)


The site
The site is located in the center of Tbilisi near The Dry Bridge between the right bank of the river Mtkvari and Virasaldze streets. The surrounding area is mostly residential with some public buildings and recreational zones like Alexandrov Park, Vernissage Park and Deda Ena Park. The site is mostly flat with a 6m level difference from Virsaladze street. There is a theatre building adjacent to the site and the river bank. Holy Trinity Church and President Place building is on the east side, and a new Radisson Hotel is on the west side of the site and Mount Mtatsminda is to the south west. These are the main visual markers in relation to the building. 'Tbilisi Tower Floating City' The concept behind this building is the idea of elevated traditional urban fabric as a public platform which acts like viewing platform and terrace overlooking the city.
However, the building is positioned as a conventional tower, and it dismantles at its apex as if lowering its full height to more horizontality. This emphasises the gravitational conditions of the platform which semantically tend towards being a substance floating over the ground, derived from the notion of a cloud or a light sense of a matter. This follows the architectural tradition of Metabolists Kisho Kurokawa, Arata Isozaki, Archigram, Yona Friedman and other great architects bringing ideas and forces of gravity into reality.


The building is formed as three distinct volumes dividing the building by dedicated functions. The programme is distributed into staggered components on top of each other by emphasising a middle core as a single function office. The top volume is formed as shifted single height volumes and terraces. A gym, spa, cafe, restaurants, conference, library and skypark with helicopter pad crown the building. On the ground floor there is an office lobby, a retail, cafe, an administration and a business centre. Programme The density and mixture of programme of the proposed building has emerged based on a number of considerations: Primarily, the desire to bring different aspects of urban life to a residential area. In other words, to provide open elevated platforms for enjoying panoramic views of the city.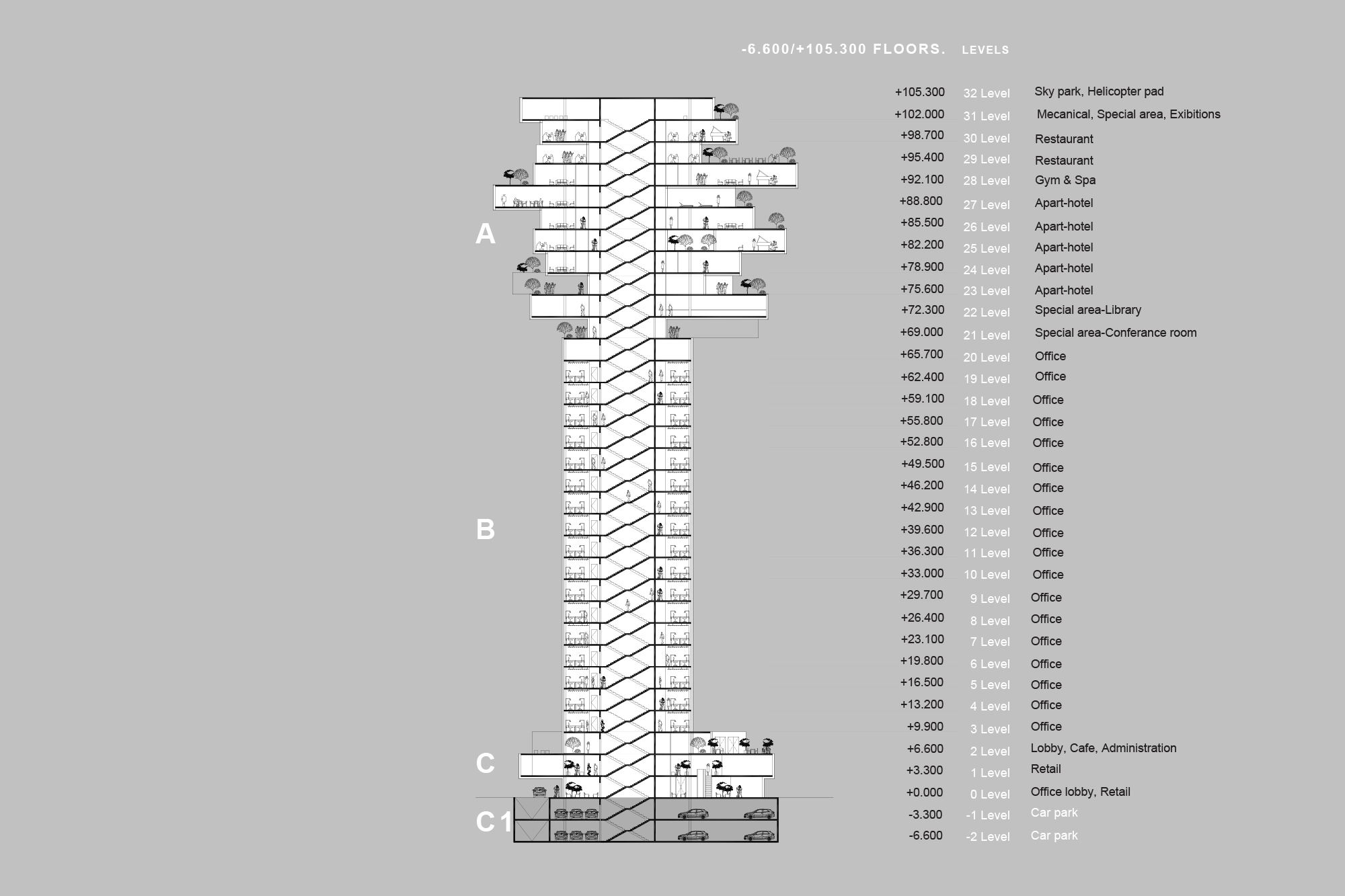 A focus has been given to introducing mixed programme platforms on top and bottom levels of the building. There are no existing viewing platforms for public use in the old city area. The inclusion of elevated platforms in the building will define its uniqueness and importance in Tbilisi. The programme mixture has been driven by a comprehensive feasibility study and market assessment in which various asset classes were analysed. The relative opportunities for each component of programme resulted in an optimal development mix to meet possible public needs.






Team: Davit Canava, Nikoloz Japaridze, Eka Kankava, Devi Kituashvili, Ivane Ksnelashvili, Nikoloz Maisuradze, Kakha Maisuradze, Gogiko Sakvarelidze

Location: 3 Virsaladze str. Tbilisi, Georgia
Programme: Office, Commercial, Restaurant, Apart-Hotel, GYM, Spa and Sky Park