Music & Theatre Academy LMTA

Vilnius, Lithuania (2016)


Vision
Respecting the existing urban context and historical heritage to continue the old-town urban framework tradition, to summon LMTA complex in the new integral ensemble organically incorporated in the existing urban fabric introducing a unique inter–connected city space rhythm.
Concept
The instrument to learn music and theatre: closed perimeter autonomous spaces – yard based nucleus structure concentrating around it a self-sufficient functional blocks of the complex penetrated with a transitional connection, guiding user articulately through the sequence of education processes towards the stage as a culmination of it integrating the theatre and music back stage realm into the spaces of learning process infrastructure summoning LMTA community around the event and the spectacle of the infrastructure of the stage as its base.

The volumetric composition of the architectural ensemble is formed by sensitive touch to the existing topography of the landscape. New blocks are accommodated on the natural hill terraces. The structure of the ensemble is headed by monumental block of halls as big scale reference to the architecture of institutional neighbourhood an the structure is gradually reduced respecting the existence of the old small scale chapel. New LMTA building blocks are forming rhythmical multi-layered order of composition which is common to the old town character. The structure is tangential to the Olandu street resulting the open access to public and vital Lawn plaza, and creating the visual and noise traffic barrier for the LMTA environment



The architecture of the ensemble is specific by its cloister structuring. The ensemble is designed as the new dominant Olandų st. icon by expressively opening the screen of representational Halls block lobby. The anatomy of the independent courts, enclosing volumes, and strong communicational bond- gallery reflects the democratic structure of LMTA as institution. The object which architecture is articulated by minimalist approach is focused into interaction with natural landscape. The topography organically and gradually grows into the building architecture- from the overall structure to the detail.
Historical urban structure is respected using this methods:

Expressing the enclosed character of the location; recreating the Parako alley as the main and initial entrance into the territory and by shaping the architectural composition of the building to elaborate its end; preserving and renewing ė of inherited historical buildings; attributing to the typological tradition of Vilnius University ensemble; keeping the old town character by proportion the dominant volume, forming cloister structures and continuing the transitional galleries.





The cloister structure of inner unclears each of them forms the ensemble of autonomous functional blocks interconnected with the transitional gallery, which articulates the educational direction towards the stage. The climate for academicals community is created as an open innovative space for collaboration focused on interactive and digital tools and technologies extending the infrastructure of curriculum.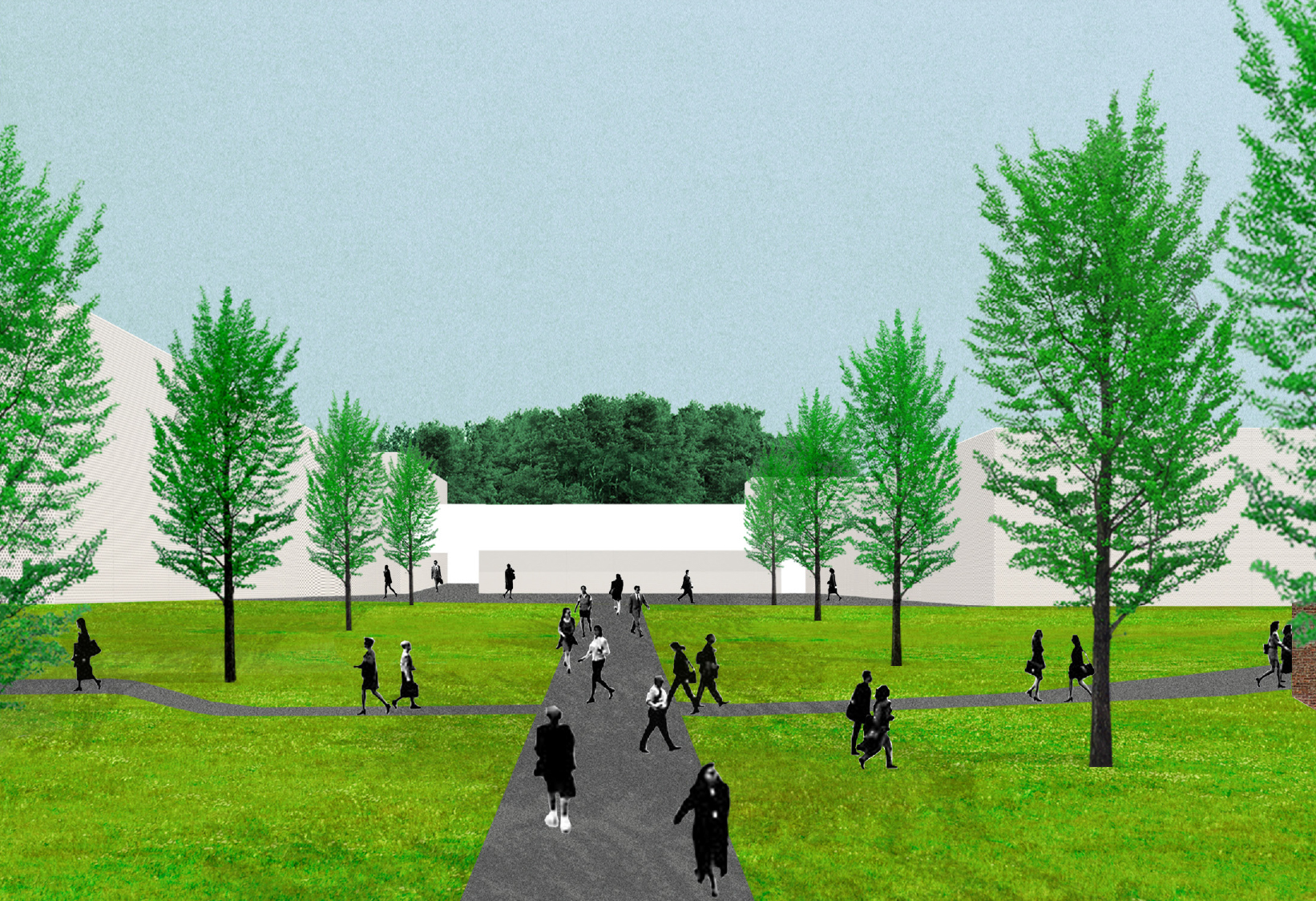 Credits

Team: Davit Canava, Dominykas Daunis, Petras Isora, Ivane Ksnelashvili, Linas Lapinskas, Ona Lozuraityte, Gabrielius Segzdavicius


Status: Competition
Location: Vilnius, Lithuania


Press:
www.architektusajunga.lt